Project RENEW was founded in August 2001 by the government of Quang Tri Province and international NGOs as an effort to reduce the number of deaths and injuries caused by cluster bombs and other munitions remaining in Quang Tri Province in central Vietnam, since the war ended in 1975.
Today Project RENEW's primary partner is Norwegian People's Aid (NPA), one of the most respect international organizations in the field of humanitarian disarmament.  Currently Project RENEW is embracing the following pillars of mine action: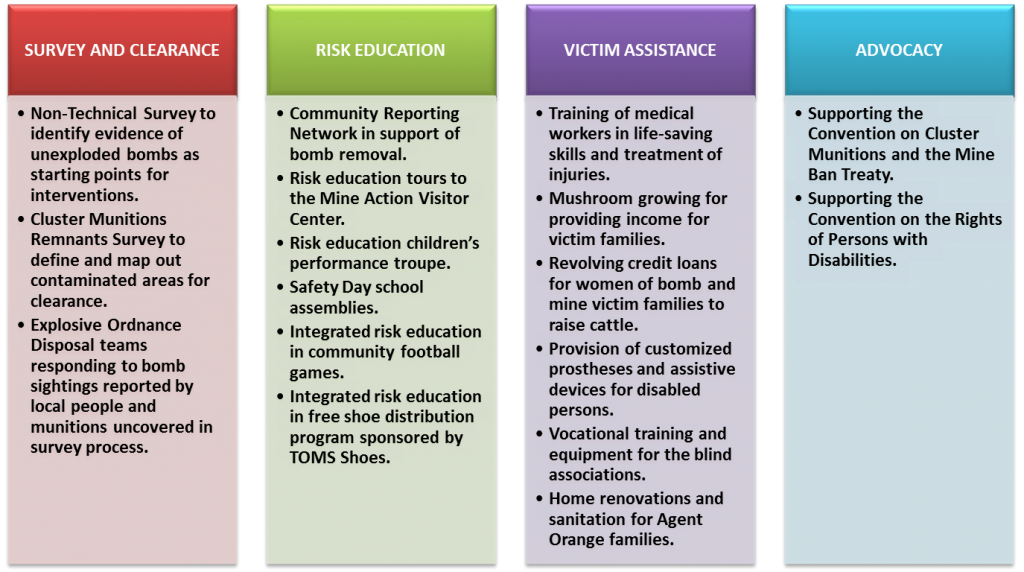 Our priority is cleaning up cluster munitions and other ERW that litter the countryside, farms and fields, and neighborhoods in villages and towns of the province. Over 131 million square meters of land have been mapped out as confirmed hazardous areas that need full clearance. Since 2007, our teams have safely removed and destroyed more than 70,000 pieces of dangerous ordnance.
Other interventions are victim assistance for disabled families with one or more bomb accident survivors; and risk education for children and adults – safety awareness – which has helped reduce bomb accidents over the years. RENEW has provided medical and rehabilitation assistance, including prosthetic limbs for more than 1,900 amputees, and income generation programs for 700 disabled families who raise cows and pigs, grow mushrooms, make brooms and toothpicks at a center for the blind.  As a giving partner of TOMS, RENEW has integrated risk education in free shoe distribution for children in need.
Cleanup of every bomb and mine in Vietnam is impossible.  It can't be done – and it's not necessary.  The real goal, and achievable goal, must be to make Quang Tri safe – which means putting in place a solid, proven management system that will keep ordinary people safe in all areas where residual unexploded bombs are found. With support from NPA, we are implementing a land release methodology – the cluster munitions remnants survey – which allows us to identify hazardous areas that need full clearance. In an estimated five years, we can clear all confirmed hazardous area in Quang Tri Province.
Meanwhile, Mine Risk Education must continue to reinforce safety consciousness and knowledge among the local population, so they will know how to protect themselves and protect their families and neighbors from ERW.  And they become part of the solution, by pinpointing locations of bombs for quick response by our teams.
The RENEW mine action model is designed to solve the problem — that is, to manage the long-term threat of unexploded bombs using local staff, local skills, local institutions and resources.
Agent Orange is now being addressed through cooperation between the government of Vietnam and the U.S. government.  Dioxin cleanup of key hotspots is underway.  Support and interventions, in the homes of severely disabled persons suffering from problems related to Agent Orange, is the next step in bringing closure to this painful tragedy.  Project RENEW, using the experience of 15 years, is preparing to step up to that challenge as well.
19,423 total views, 9 views today